The Art and Science of Sausage Making: Why Clippers Matter
Created Date: 24 Mar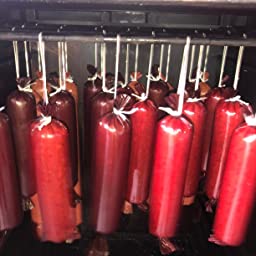 Sausage making is an age-old practice that dates back to ancient civilizations. In modern times, it has evolved into a thriving industry that demands high-quality products made with precision and consistency. The process of sausage making involves a delicate balance between art and science, and each step requires careful consideration to ensure the end product is perfect. One important tool in this process is the sausage clipper.
Sausage clippers are used to seal the casings of sausages after they have been filled with meat. The clipper secures the sausage and ensures it retains its shape during cooking, transportation, and storage. It is a crucial step in the process of sausage making as it not only improves the appearance of the final product but also enhances the shelf life and reduces spoilage.
The use of sausage clippers in sausage making highlights the importance of precision and consistency in the food industry. Every sausage needs to have the same amount of filling, same length, and diameter, and be sealed in the same way. This consistency ensures that customers get the same quality product every time they purchase it. This is why the role of sausage clippers in the sausage making process cannot be overstated.
When it comes to choosing sausage clippers, it is important to consider factors such as durability, ease of use, and accuracy. You need a clipper that can handle high volumes of sausages without breaking down or causing damage to the product. Precision is also important as even the slightest deviation in clip placement can result in uneven cooking or spoiled products.
At MyWay Fabrication, we understand the importance of sausage clippers in the food industry. That's why we offer a range of high-quality sausage clippers that are durable, reliable, and easy to use. Our machines are designed to handle high volumes of sausages, ensuring you can meet customer demand without sacrificing quality.
In conclusion, sausage making is an art that requires precision and consistency. Sausage clippers are an essential tool in the process, ensuring that every sausage is the same length, diameter, and shape, and that it is sealed correctly. Investing in a high-quality sausage clipper is a smart move for any food business looking to maintain quality, reduce waste, and increase profits. MyWay Fabrication offers some of the best sausag