Fulfill Multiple Tooling Aspect with the Custom Tool & Die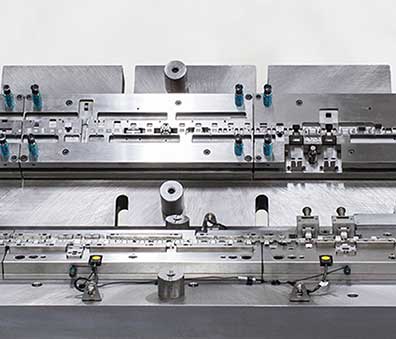 Posted in BlogBy MyWay FabricationPosted on 0
Looking for the right equipment for your manufacturing needs? Undoubtedly, Custom Tool & Die is the right tooling that serves a lot to meet your manufacturing needs. No matter what type of tooling you are searching for, we provide high quality dies such as draw dies, piece dies, progressive dies, and much more. We also manufacture a number of tooling equipment for the welding, machining, cleaning, and assembling. Dies are manufactured with high-quality steel and alloys. We have a dedicated team of experts who can help you get dies weighing up to 1000lbs with different dimensions!
Custom Too & Die- best tooling equipment!
Dies find applications in different areas like defense, recreational vehicles, aerospace, and much more. We provide a comprehensive range of extensive services like metal stamping, engineering works, automobiles, welding assembly, and so on. We deliver the products on time without compromising on the quality and service. The dies have high precision and help you to meet the manufacturing needs.
Our dies are highly used in the manufacturing industries to increase the productivity. We manufacture our tools and dies in the high precision to improve the efficiency. More and more manufacturing companies rely on our products due to cost-effective outcomes.
Cost-effectiveness Tools & Dies:
During the design and manufacturing process, Custom Tool & Die improves manufacturing facility and reduces the amount for the fabrication process. Our team experts work sincerely to provide the best quality products at the best possible prices.
Our team of experts will visit your manufacturing industry and suggest the type of dies need for your manufacturing process. The dies find huge applications in the manufacturing field to increase the efficiency. When you decide to buy tooling equipment from us, you are saving money without compromising the quality. Our products are affordable and so never make a big hole in your pocket!!
Choose the right tooling equipment to reduce manufacturing costs. Dies will match up with the tolerances of your design. We will meet your needs throughout the manufacturing process, and so you will not worry during the manufacturing process. Tools and Dies help you to run a machine effectively without any hassles.
Our extensive range of dies combined with our highly skilled professionals to deliver the right products you need. Custom Tool & Die is manufactured on the customer's need, and so you can get the desired designs at an affordable rate. All our products are manufactured to meet your needs, and experts assist your project right from phase design to production tooling!!
Why choose us?
We provide complete services right from design, testing, manufacture, and assemble. We specially manufacture high quality dies for the manufacturing industries. We are committed to offering high-quality services to our customers as effectively and cost-effectively.
We are waiting eagerly for an opportunity to serve you!!! Contact our customer executives for more information regarding custom tool & die. We will assist you with a smiling face!! We complete your tooling project on time…!! We are the best and reputed premier Tool & Die manufacturers!!
No Posts in this category!